Authentic German Beer Steins, Glass & Ceramic Beer Mugs, Beer Boots and German Gifts. A family tradition since 1954.
Featured Items
German Beer Steins, Mugs, Boots and Horns for Sale Online with Free Shipping
Distinctive Gifts Imported from Germany
There is no classier way to drink beer than from a stein. German steins are instantly recognizable and have a rich history of keeping drinks cool anywhere people drink beer: in beer halls, bars, at work and in basements.
We've got you covered whether you want to keep your beer cooler longer with a ceramic stein with lid, are looking to deck out your basement bar with personalized glass mugs, feel the urge to conquer Das Boot or are in the mood for a snazzy German drinking horn.
Our vast selection of German drinkware is specially selected by our staff to include unique, hand-crafted and distinctive collectibles. We do this by carefully choosing our products based on their high quality and craftsmanship. Unlike cheap knock-off steins, ours are imported directly from Germany, made by world-leading stein companies. Our family has been selling real German beer steins since 1954, a tradition we continue today.
We've got some truly unique German drinkware.
Sure, your collection needs some of the tried and true classics like Das Boot or a half liter dimpled Oktoberfest mug - but you can really put an exclamation point on it with some of the coolest, most unique beer mugs you'll find in the world.
Nothing sparks conversation like a parrot in sunglasses or a german shepherd police officer...that you can drink out of.
With or Without a Lid, German Steins Has the Mug You're Looking for
German Beer Steins come in a variety of shapes, styles and sizes. We have decorated glass, crystal, stoneware and a host of unique German collectibles which make excellent gifts for any occasion. Whether you're Bavarian or a native of Schleswig-Holstein, we have the perfect beer stein for you.
Along with being the perfect gift, drinking your brew out of an authentic ceramic stein will make your beer taste better. Some people say this is all in your head. But does it really matter why your beer tastes better in a stein? No. Beer steins are awesome. Start using one today.
Beer steins also act as an insulator, keeping your beer cold and refreshing. Many steins have lids to keep bugs from your mugs while you put beers in your face. A beer bottle stein lid turns ordinary beers into mini-steins. Classy AND convenient. Don't want to fiddle with a lid? We've got steins without lids, too.
Whether you're looking for a novelty engraved beer boot or are a serious collector of authentic, hand crafted steins, German Steins has exactly what you're looking for.
Personalized, Engraved Beer Steins for Groomsmen, Home Bars, Military Vets and Very Special Occasions
A beer stein is a unique statement. Customize yours with a personalized message. We can engrave any glass stein, mug, glass or boot we sell.
Whether you want a name, date, message, logo or all of the above, our in house engraving staff will make your stein one of a kind.
High quality glassware engraved with your logo lets basement and commercial bars order sets of personalized steins to add the finishing touch and perfect ambiance.
Our selection of armed forces steins have glass versions available, perfect gifts for vets or to adorn the bar at your VFW or American Legion post.
Add your unit, tour or other personalization to a glass stein emblazoned with your branch's logo.
Commemorative beer steins make great souvenirs. Remember your family reunion, corporate picnic or local German fest with a specially engraved glass beer mug. Engraved steins also make great groomsmen gifts.
Give the World's Greatest Dad the world's greatest personalized beer stein this father's day!
All engraving is done in-house by our trained staff. 13 fonts and any logo or other image you supply get you a totally unique, personalized beer stein.
Glass, Ceramic and Plastic Beer Steins Available
Originally made of earthenware, steins now come in more durable materials. Stoneware ceramic steins are usually brought to mind when we think of German beer steins, but other materials are often used. Glass, pewter and crystal steins have been used for centuries and we have them in both classic and contemporary designs.
If you love drinking from a stein (aesthetics!) but do not want to risk breaking a fancy glass one, consider learning how not to drop a mug or check out our plastic German steins. From 1L plastic beer mugs to large, 2L plastic beer boots, our selection of plastic beer steins is sure to have the shatterproof stein you need to enjoy your favorite brew without having to sweep up after yourself, butter fingers.
Broken glasses are often the price of owning a bar. Instead of suffering through patrons breaking your expensive, personalized glass beer steins, our high quality, plastic glasses make a great alternative, even though they can't be personalized.
German Party Supplies including Official Oktoberfest and Hofbrauhaus Steins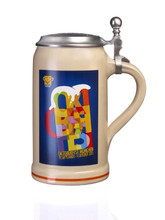 When you're planning your own Oktoberfest or other German-themed party, German Steins has just what you need. From official Oktoberfest beer steins and mugs, available with and without lids, to Bavarian themed glasses, you're spoiled for choice.
We even have a huge selection of steins featuring the world famous Hofbrauhaus, Munich's favorite beer hall.
Our full selection of Oktoberfest supplies includes hats, flags, plates, table covers and everything else you need to throw the perfect German party. If you're afraid your patrons might damage your nice steins, invite less clumsy friends or order one of our bulk packs of plastic steins. Order your Oktoberfest party supplies from German Steins and all you need to add is people and, of course,
BEER!