Forget the Last Resort—Get Dad a Personalized Gift He'll Never Forget
Tearing your hair out trying to decide what to get your dad for Father's Day? Decided that power tools, obnoxious neck ties or embarrassing golf shorts won't do it this year? Forget the cheap last minute panic gifts from Walmart or Target. You can only scroll through Pinterest so long before losing inspiration. Homemade or DIY gifts have the extra strength of "I made this," but often serve as sentiment alone.
Take a year off from gags. You've seen enough of your cute "just good" gifts pitched in the trash or left on a shelf to collect dust. The dad who has everything and wants nothing will never see this coming.
The 10 beer steins and mugs you see below will give him a smile and a practical tool he'll put to use every day.
1. Personalized "DAD" 0.5 Liter Beer Mug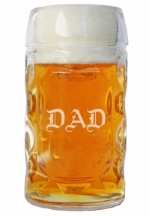 Being a dad is tough. Being a dad without a frosty mug full of sudsy beer is even tougher. If you're not entirely sure what to get your dad or husband this Father's day, get him something he will use. Check out this nifty .5 liter Oktoberfest glass beer mug.
With his official job title printed clearly on the front of the glass, you're old man will feel like the king of the castle every time he sits back in the recliner and busts out this beauty.
Shooting for Under $10? You've Found Your Best Option.
The $10 price tag is perfect for shoppers on a budget—or if you still owe him rent.
Get His Name Engraved!
Add a humorous touch and have us laser engrave your favorite Dad acronym on your glass. Some suggestions include:
Dispense As Directed
Day After Drinking
Dedicated And Devoted
Or we can simply add initials, logos, sayings, and about anything else you can think of. What are you waiting for? Your dad is a thirsty man, and he would love nothing more than to open this adult version of the "World's Greatest Dad" mug this upcoming Father's Day!
2. A More Fancy "DAD" Glass Beer Stein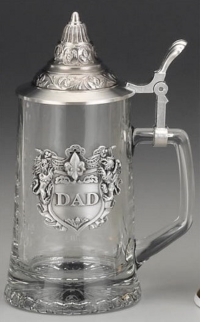 When you were five, someone gave you five dollars to buy your dad a Father's Day gift, and you inevitably came home with a genuine World's Greatest Dad mug. Now that you're an adult, hopefully have a big boy job, and the school store isn't available any longer, it's time to get him a real treat.
Older and first time dads alike will beam with pride at the permanent acknowledgement of their services to the family.
An Inexpensive Gift Under $50 that Feels Like Much More
With his official job title printed clearly on the front, your old man is guaranteed to cherish this glass stein every time he sits on the recliner and pours a healthy portion of this favorite adult beverage. With a price tag of under $50 dollars, what's not to love?
3. Ceramic "Father's Day" Beer Stein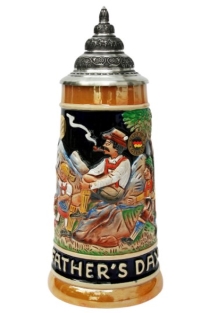 If your Dad is a collectable stein enthusiast, avid beer drinker, or just a decent human being in general, he is guaranteed to love unwrapping this hand-painted Father's Day stein on his special day.
It is a great display piece, is fully functional for drinking any delectable adult beverage, and is just a great way to show your Dad that you were thinking about him.
Looking for Something Special AND Useful Under $100?
If your dad's German, chances are he's not interested in some knickknack he's got to find space for and nothing else. He wants a tool. Nothing speaks to a German like a beer drinking tool.
Get him a creative, unique gift he can brag about to all his jealous friends.
4. A Classic 1 Liter Beer Boot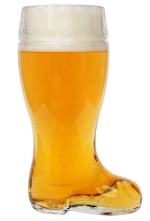 It's not a party until you bust out the beer boot.
Would your dad enjoy drinking his favorite frosty beverage out of these beer fest style, das boot, German beer boots? Of course he would, he's your Dad! These glass beer boot mugs are made in Germany, and their quality is far superior to that of novelty mugs you see sitting around dollars stores.
Dads everywhere love pouring themselves a healthy portion of their preferred sudsy nectar of the gods directly into this boot mug, so give him a gift he might actually enjoy this Father's Day season.
A Tremendous Collectible at a Tremendous Price
In addition, for only a minor additional charge, we'll laser engrave your dad's name or initials. Custom engraving is a great way to personalize your gift and show your father that you were thinking about him this year. Also, with a price tag of under $50, you gotta love it.
5. A Ceramic Beer Stein Honoring Hofbrauhaus Brewery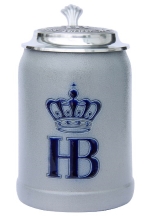 Perhaps Dad isn't so brazen as to put a giant beer boot on display or a quirky "DAD" beer stein on the mantelpiece. His tastes are subtle, and it's your job as a responsible son or daughter to gift him according to his character.
This stoneware beer mug with a classy pewter lid features a smooth & glossy salt glaze finish demanding respect rather than snickers.
If your dad loves talking legendary breweries and hates tooting his own horn, you've found the perfect Father's Day gift.
6. The World's Best Craft Beer Glass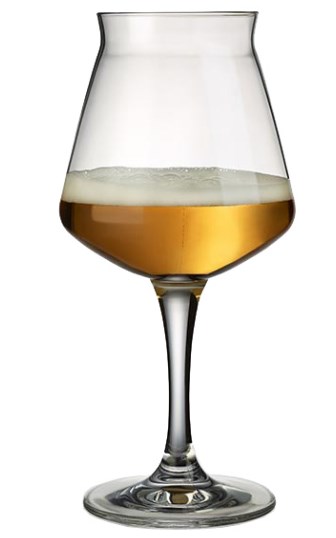 Your dad is the best, and he deserves the best. You've spent years enduring his florid lectures deconstructing myriad specialty brews. He's got discerning tastes and he needs the equipment to truly experience beer.
The Rastal TEKU 14 ounce craft beer glass is the PERFECT glass for enriching the senses and tickling every last taste bud. If you thought your dad was meticulous about beer, just wait until he gets his hand on one of these beer glasses. The TEKU's shape promotes strong aroma—and a super thin fluted rim provides unsurpassed mouth feel.
On a budget? No matter. You're getting this beer glass for the best price at Germansteins.com.
It's not often you can get the "world's best" something for under $20. Change your dad's beer drinking life forever.
7. More Awesome Rastal Craft Beer Glasses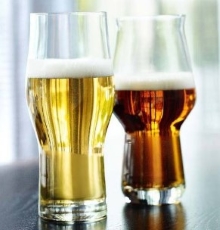 Of course it's nice to have the best, but it's also nice to have options. Different glasses are better for different types of beers.
Does dad boast a deep collection of craft beers? Equip him the tools to enjoy them all uniquely – the Rastal Master One and Master Two craft beer glasses. They're inexpensive, high-quality and speak to his creative, sophisticated side.
8. A Beer Stein Honoring the Greatest Game on Earth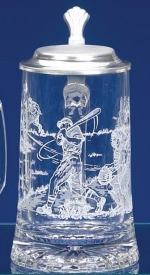 Baseball's back in full swing, and dad couldn't be happier—unless he had a unique beer stein rather than a boring aluminum can to sip from on a Sunday afternoon.
Better yet: custom engrave your dad's favorite team or player to give an extra dose of personalization. This is the best gift ever for a baseball fan who loves enjoying it with a beer.
9. This Healthy Dose of German Humor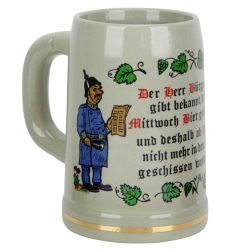 If your Dad thoroughly enjoys a good laugh, we have got the perfect beer mug for him! The German on the front roughly translates to:
"The mayor has announced that beer will be brewed on Wednesday and that therefore on Tuesdays, there should be no more s#@*ting in the creek!"
These mugs are made to celebrate 500 years of the German Purity Law, which set the standards for the delicious German beer that we enjoy today. This stein is also wonderful conversation starter and perfect segue to an easy "dad" joke.
10. Anything Personalized
Ultimately, any beer stein, mug or glass with a personalized engraving option may be customized to be a killer Father's Day gift – for husbands, grandpas or even ex-husbands. Take a blank ceramic slate and turn it into an unforgettable gift. Nail that punchy honorary phrase and watch your dad smile, laugh or cry in astonishment.
You may elect to engrave a custom message or even place a logo or image. Give us a call and let us know what you've got in mind, and we'll help you make it happen.