Authentic German Beer Steins, Glass & Ceramic Beer Mugs, Beer Boots and German Gifts. A family tradition since 1954.
Personalized Beer Glasses
Personalized Beer Glasses
Custom Engraved German Beer Glasses for Every Occasion
A personalized beer glass makes a fine gift for any occasion—as a memento for your groomsmen (or bridesmaids), a gesture of appreciation for employees, or even a "just because" gift for a sweetheart. German Steins offers custom laser engraving on all our beer glasses. You can choose from 13 available fonts, including a very traditional German style font, and you have up to 5 lines for your personalized message. The hardest part about ordering is deciding what to have engraved on the glass.
German Steins has a collection of sizes and styles, letting you celebrate Bavarian heritage, your favorite German beer, and more.
Engrave Your Personalized Beer Glass in 3 Steps
Custom Engraved Beer Steins for:
1) Click the Blue "Custom Engraving" Button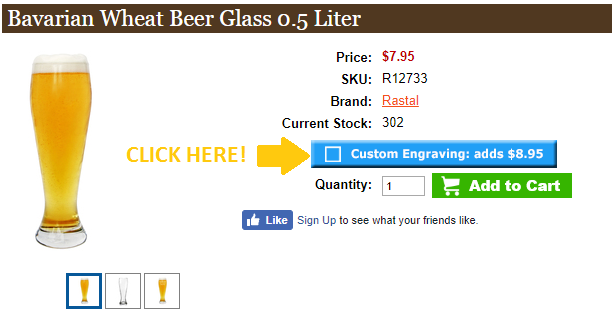 2) Choose Your Font and Type Your Message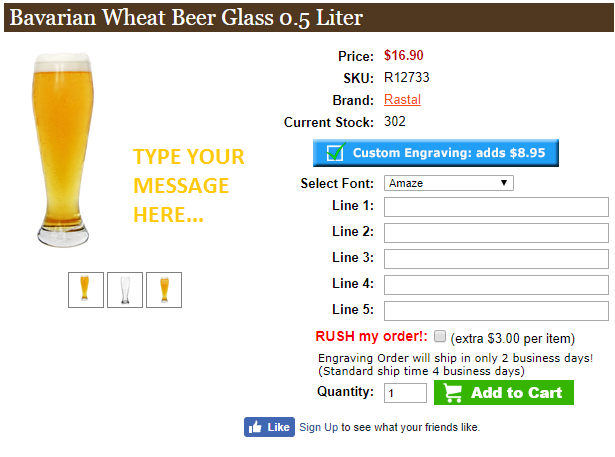 3) When You Place Your Order, You Can Double Check the Message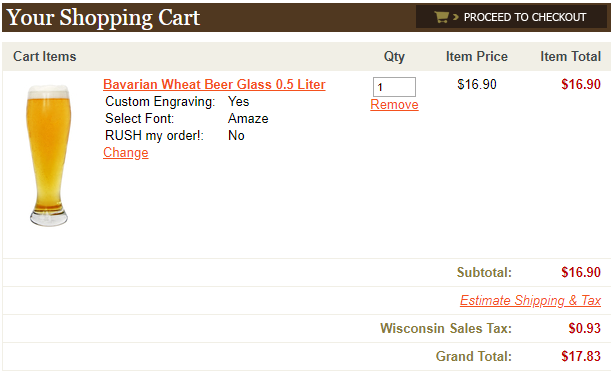 Custom Engraved Beer Glasses for Weddings & Anniversaries
Weddings gifts don't have to be all crock pots and cutlery. Sure, these items are practical. But so are beer glasses. You don't want to gift just any old beer glass, though. What you need is something special, like a custom, laser engraved, authentic German beer glass. With a heartfelt message and 16 ounces of fine German beer, you know they'll feel the love.
Custom Engraved Beer Glasses for Groomsmen & Bridesmaids
Personalized beer glasses commemorating your wedding day make an excellent gift for your groomsmen and bridesmaids. And what a clever way to make sure they never forget your anniversary! Hand out the glasses before the toasts are made and dispense with the boring old tradition of raising a silly little flute of Champagne. A light and fizzy Kölsch is so much better.
Custom Engraved Beer Glasses for Father's Day
Out of ideas for what to give der Vater for Father's Day? If he's a beer connoisseur, you can't go wrong with a proper beer glass. An authentic Bavarian wheat beer glass or boot is a great start, but with custom engraving expressing your sentiments it's easily a "best Father's Day present ever." You'll score extra points with Germanophile dads by having the engraving done in German. (Yes, we do umlauts!)
Custom Engraved Glassware for Any Occasion
We carry more than just beer steins. You can find a huge selection of steins, beer mugs, masskrugs, beer boots and more at German Steins. All of these products can be custom engraved with up to five lines of text in over a dozen different fonts. Design the perfect gift for your favorite beer aficionado, or your favorite German.